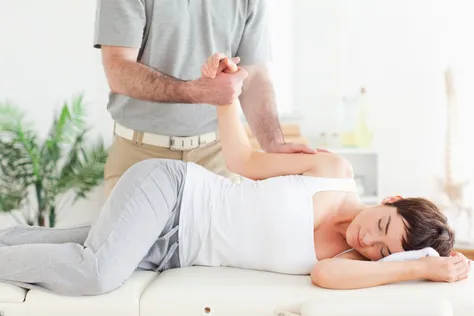 A chiropractic adjustment, also known as chiropractic manipulation, manual manipulation, or spinal manipulation, is the primary chiropractic treatment method for back pain.
When vertebrae shift out of place, there is an overall systemic response from the muscular system to the central nervous system. Without proper alignment and flow, our nerves, our immune system, and our minds cannot function at their highest peak. Chiropractic adjustments relieve pressure on joints, reduce inflammation, and improve nerve function. They have been a trusted form of treatment since the ancient Greek Hippocrates documented manipulative techniques in his writings back in 1500 B.C. Today, chiropractic adjustments is used to treat conditions such as allergies, menstrual cramps and headaches.
At Bloomfield Chiropractic Center, we treat each patient individually. We'll choose the technique used for you based on your body's needs and your condition. We may even use more than one technique on your visit with us, customizing your care to exactly what you need.
If there's a type of care that you prefer to use, just let us know and we'll always accommodate you. Your comfort is always our priority.
The primary adjusting techniques we use include:
Activator Methods® - This is a system of spinal evaluation combined with a handheld adjusting instrument that delivers a consistent, low-force thrust.
Flexion-Distraction - We use a special table so we can traction your spine, opening up the spacing between spinal vertebrae and relieving pressure to spinal.
Diversified - After identifying which vertebrae have lost their normal motion or position, a specific manual thrust is applied to free up subluxations "stuck" spinal joints.
PEMF - This high-tech tool produces magnetic impulses that penetrate into the affected area reducing pain and inflammation and increasing blood flow to help in the healing process.
Drop Table - Drop Table technique is a system of analysis and a special table that reduces the amount of energy needed to adjust your spine. If you've been to a chiropractor before and prefer to be adjusted in a particular way, let us know. We want you to relax, enjoy and fully benefit from your chiropractic care.
Overall, spinal adjustments and manipulations are an excellent way to keep the body functioning at its highest level without any discomfort. When the body is adequately aligned, it becomes able to respond and perform as it was built to do.